NEW DELHI: Drawing attention to news broadcasts relating to the Russian-Ukrainian war and communal violence in Delhi, the government has asked private television stations to refrain from using provocative and socially unacceptable language and adhere to the Cable Television Networks (Regulation) Act 1995. and program code.
Exceptions to headlines such as "Parmanu (nuclear) Putin" and "Ali, Bali aur Khalbali" (unrest), a five-page notice from the I&B ministry – more of a warning nature – reminded channels that the government exercises the right to "regulate or prohibit" the transmission or retransmission of channels in the interest of the security, sovereignty, integrity of India or in the interest of its friendly ties with a foreign state, or for reasons of "public order, decency or morality".
The Ministry of Information and Broadcasting has issued a notice for Cable TV [email protected]_India https://t.co/Iort7OF6Vu

— Prasar Bharati News Services पी.बी.एन.एस. (@PBNS_India) 1650701578000
He said that despite existing guidelines, broadcasters were airing content that "appears to be inauthentic, misleading, sensational and using socially unacceptable language and remarks, offending good taste and decency, and obscene and defamatory and having community connotations". "The channels misrepresented and frequently misquoted international agencies/actors…Using "scandalous headlines/slogans" unrelated to the news…Many reporters and news anchors from these channels made fabricated claims and hyperbolic in order to incite the public. said the notice, while referring to television coverage of the Russian-Ukrainian war.
He also cited specific examples of one channel's 'provoking war without facts' with claims that Russia gave a 24-hour deadline to launch a nuclear attack on Ukraine, another channel's claims about the start of World War III and another's claim that the Russian president carries a "nuclear briefcase" with him.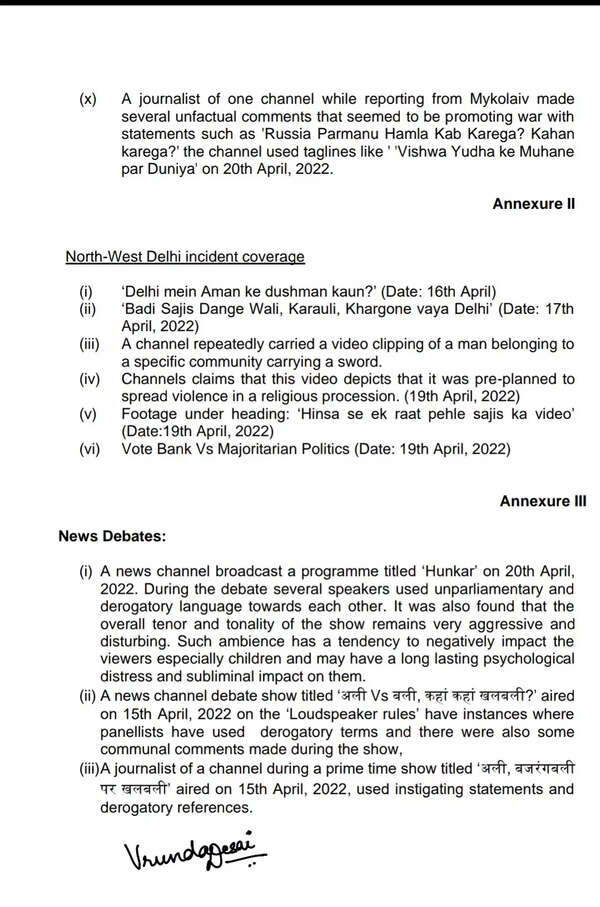 Coverage of communal violence in Delhi, according to the notice, featured "provocative headlines and videos of violence likely to incite hatred between communities and disrupt peace and law and order". He pointed out that the content broadcast had the propensity to "disrupt" ongoing investigations by broadcasting "scandalous and unverified CCTV footage". He warned that showing images of a "specific community" would aggravate communal tensions, while the "fabricated headlines" were "sensational and gave community colors to the actions of the authorities". The ministry also warned private television stations against broadcasting current affairs containing "unparliamentary, provocative and socially unacceptable language, communal remarks and derogatory references" which tend to have a negative impact on viewers and disturb the peace as a whole.